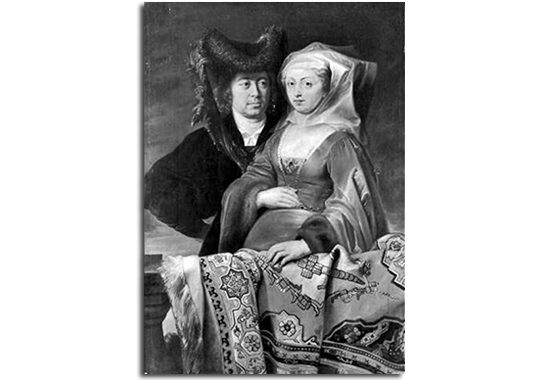 Begga ? - ?
Image above:

Pepin of Landen and his daughter St. Begga

Painting by an anonymous artist, who created this artwork copying with variations from a Rubens painting.

Royal Museum of Fine Arts, Brussels, Belgium


The original Rubens, by the way, is titled "Ansegisus (Ansegiesel) and Begga" which would make it a husband and wife portrait.
You can find it at the Kunsthistorisches Museum in Vienna, Austria.
Begga was the daughter of

Pepin I the Elder. Begga's mother was Itta, also spelled Ida, who was made a Saint.
Begga was married to

Ansegisel, with whom she had a child,

Pepin II of Herstal.
Begga's brother was

Grimoald.
Begga was part of the

Carolingian family clan. As is the case with many Mafiosi wives, Begga too had to mourn the killing of her husband.
Making good use of her free time as a widow, Begga founded a monastery at Andenne in 691.
More History