Satrap


A satrap was a governor of a province of ancient Persia.
The old Persian root word kshathrapavan means guardian of the realm. There we have it.
The Persians
The

Achaemenian kings, such as

Darius I the Great, employed the system of dividing their territory into satrapies, or provinces, over which a satrap was put in charge.

Herodotus tells you about it.
See also

Persian Empire.
The Macedonians

Alexander the Great liked the idea and kept the administrative structure.
Famous Satraps

Datis was a satrap on Persian

King Darius I's payroll. Datis led the Persian army at the

Battle of Marathon in 490 BC.
Mausolus, who became posthumously famous for the gigantic tomb they built him at Halicarnassus (hence mausoleum), was the Persian satrap of Caria. Mausolus died in 353 BC.
After Alexander's death,

Seleucus was made satrap of Babylon. The year? 321 BC.
And here are maps:

Map of the Persian Satrapies
Click to enlarge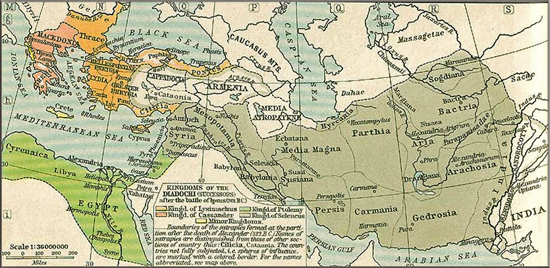 Map of Alexander's Satrapies
Click to enlarge
More History