Map of the Viking Voyages
Smithsonian National Museum of Natural History

The Vikings
Originating from Scandinavia (Norway, Sweden, Denmark), the Vikings are also called the

Norsemen.
When Did the Vikings Live?

The Vikings' heyday was roughly from the 8th to the 11th century. England in particular was targeted for invasion and colonization from 875-950.


Image Above

Viking Voyages, Map, Smithsonian, illustrating:
Early Voyages, the voyages of
Erik the Red - 985
Bjarni Herjolfsson - 985-986
Leif Eriksson - 1000
Thorfinn Karlsefni


What Does the Word Viking Mean?

Back in the days and feared for their pillaging sprees, these tough warriors were simply called The Danes.

Starting in the early 1800s, a word from the Old Norse language, vikingr, was revived.

In detail:
The word vikingr stems from the Old Norse word vik, which means creek or inlet. Hence, the word vikingr is translated as one who came from the fjords.

When someone used the word Viking back in the days, they usually referred to a person from the Vik, which was the name of today's Skagerrak, the huge bay between Norway, Sweden, and Denmark.
What Language Did the Vikings Speak?
The language of the Vikings is called Viking Norse, which in turn is a phase of the Old Norse. Viking Norse was written and spoken from 700-1100; Old Norse altogether was in use from AD 100 - 1500.
What Influence Did the Vikings Have?
The Vikings were busy raiding all their way down to Spain and the Mediterranean coast.
In 881, the Vikings suffered a rare defeat at the Battle of Saucourt. Happy winner of the day was

Louis III.
In 886,

Charles III the Fat had to pay the Vikings in order to save Paris from a Scandinavian pillaging fest.
Did the Vikings Wear Helmets with Horns?
No. Not in battle, not at home, not to the office. The only proper occasion to wear a horned helmet was a ceremonial procession.
When Did the Vikings Discover America?
Leif Eriksson, also spelled Leif Ericsson, was one of the first European explorers who came to North America.
Leif Eriksson lived approx. 970-1020. He arrived in North America (exact location not known) around the year 1000 and called his new discovery Vinland.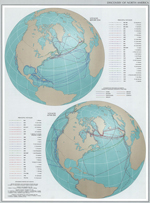 985 - 1794 Discovery of North America


L'Anse aux Meadows is a National Historic Site in Newfoundland, Canada. The site features the remains of an 11th-century Viking settlement. It is the only authenticated site of Norse settlement known in North America.

Map Location of L'Anse aux Meadows


And here are more maps on the Vikings. Click on map to enlarge.

8-10th Century Europe: Invasions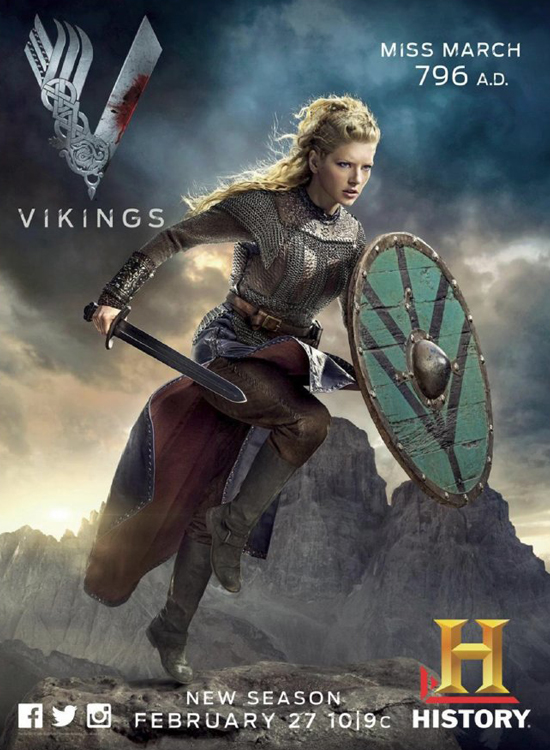 History Channel's Clever Miss March AD 796 Ad in Playboy's March 2014 Issue
More History