Augustus Caesar (Octavian) 63 BC - 14 AD
His original name was Octavian. His great-uncle

Julius Caesar adopted him and he became Gaius Julius Caesar Octavianus.
How was he related to Julius? Octavian's mother Atia was the daughter of Julius Caesar's sister Julia.
Together with

Mark Antony and

Marcus Aemilius Lepidus, Octavian formed the

Second Triumvirate.
In 30 BC, Octavian brought Egypt under Roman rule.
Octavian became the first Roman Emperor and ruled as such from 27 BC - 14 AD.
Augustus' Accomplishments
Emperor Augustus was the initiator of

Pax Romana.
Suetonius, who was born in 69, wrote in his "Lives of the Caesars" under the chapter "The Deified Augustus" in Section 28:
Since the city was not adorned as the dignity of the empire demanded, and was exposed to flood and fire, he so beautified it that he could justly boast that he had found it built of brick and left it in marble.

He made it safe too for the future, so far as human foresight could provide for this.

Rome's Expansion
Here is the map: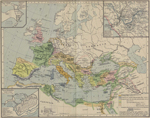 MAP BEFORE AND AFTER AUGUSTUS CAESAR
Click to enlarge
See also

Rulers of the Roman Empire.
More History