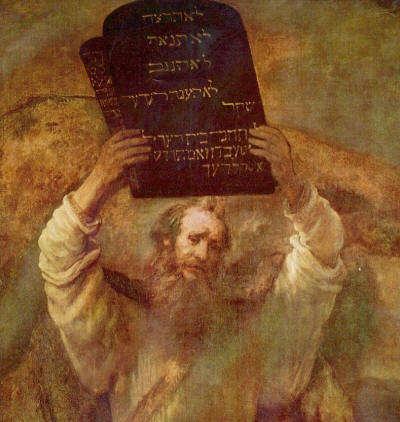 Moses Ready to Smash - Rembrandt Painting
Moses (14th - 13th Century BC)
Moses was a prophet and the one who lead his people out of Egyptian slavery.
Apparently, it was

Ramses II who ruled Egypt at the time.

At Mount Sinai, Moses received the

Ten Commandments, which qualify as god-given in the religions of Judaism, Christianity, and Islam.
Curiously, the first set was breakable, but regardless, the second set was the law hence.

And the laws kept on coming. According to Jewish and Christian faith, Moses was the author of the Torah, or the first five books of the Bible (Genesis, Exodus, Leviticus, Numbers, and Deuteronomy,) aka the Pentateuch, which relates the events from The Beginning to Moses' death.
But Moses' authorship is doubtful. Deuteronomy chapter 34 verse 7, for example, relates that,
Moses was an hundred and twenty years old when he died.
Not likely written by Moses himself.

Was It Common in These Days to Have Sets of Laws?
Here is more about

Hammurabi's Code, compiled 400 years prior.
And here more on

Hammurabi.
See also

About the Ancient Egyptians.
More History