John Brown 1800-1859
John Brown was an abolitionist of slavery.
Image Above

Photograph of John Brown

c. 1859

Library of Congress

John Brown and Harpers Ferry
White skinned John Brown became famous for his raid on the United States Armory and Arsenal at Harpers Ferry, Virginia (today's West Virginia), on October 16, 1859. His objective was to liberate the slaves.
He and his 18 (13 whites, 5 blacks) men were overwhelmed by federal troops who came to the aid of the local militia on October 18, 1859. John Brown was wounded and ten of his men, including two of his sons, were killed.
John Brown was tried, convicted on November 2, 1859, and hanged in Charles Town, Virginia, on December 2, 1859.
At the end of his trial, he was given 5 minutes for a

final speech.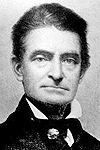 Go here for

Theodore Roosevelt's speech at the John Brown Celebration in Osawatomie, Kansas, on August 31, 1910.
And here is the link to the

John Brown Museum State Historic Site, Kansas.
More History