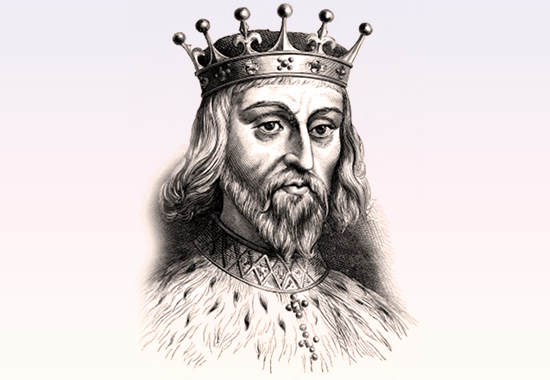 Henry II of England 1133-1189
Henry II was the duke of Normandy, the count of Anjou, the duke of Aquitaine, and the king of England. He ruled England 1154 - 1189.
Image Above

Henry II, king of England

c. 1900, Ann Ronan Picture Library


The Family of Henry II
His famous wife was

Eleanor of Aquitaine.

His famous sons were

Geoffrey IV,

Richard I, and

John. All in all, Henry and Eleanor had eight children. See Eleanor's page for a complete list of the children.

Henry's father was Geoffrey Plantagenet. His mother was Matilda, the daughter of Henry I.
Henry II and

Louis VII of France had some running ins.
The Days of Henry II
Gerald of Wales described Henry as a "secret adulterer" but sometimes it could also be open adultery. Such was the case with Rosamund Clifford, who might or might not have been Henry's love of his life.

Under Henry II, Thomas Becket was made Archbishop of Canterbury in 1162.
This was the first instance of any man of the Saxon race being raised to high office in Church or State since the Conquest. Big deal.
In 1173, King Henry had to deal with an insurrection from his sons and his barons, which became known as the

Anglo-Norman Rebellion, also called the Anglo-Norman War, and was fought 1173-1174.


Anglo-Norman Rebellion 1173-1174: First Scottish Invasion

Anglo-Norman Rebellion 1173-1174: Richard de Lucy's Response

Anglo-Norman Rebellion 1173-1174: Leicester's Invasion

Anglo-Norman Rebellion 1173-1174: Second Scottish Invasion
See also the chart

Governments of Britain.
More History