Charlemagne 742-814


Charlemagne was never called Charlemagne during his lifetime. He was simply Charles. Or more officially, Charles I.
He was called the Great within his lifetime and operated hand in hand with the Church. He was, in fact, appointed by Pope Leo III.
Charles was one of the most dominant medieval figures and founder of the Western Roman Empire that would last for more than a thousand years.

All in all, Charles governed 46 years and was engaged in more than 50 military campaigns. His physical energy seemed to be much more impressive than his talents.
According to some historians, the year of Charles's coronation as emperor in AD 800 marked the beginning of the

Holy Roman Empire. Others would refer to the year 962 in which Otto I was crowned emperor.
Before becoming Holy Roman Emperor, Charles had ruled as king of the

Franks from 768 - 814 and king of the

Lombards 774 - 814.
See also

Governments of France.
Charlemagne's Family
Charles's father was the famous Pepin III the Short. His mother's name was Bertha. His siblings were Carloman and Gisela.

Charles was more or less fond of the following spouses - Desiderata, Hildegard, Fastrada, and Liutgard. This brought into play the following children: Charles, Pepin, Louis, Hruodrud, Bertha, and Gisela (by Hildegard.) Then there were Theoderada, and Hiltrud (by Fastrada.)

Charlemagne had still more children by several concubines.
Charlemagne's Maps
This map is showing the growth of Frankish Power 481 - 814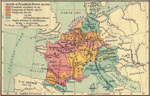 Frankish Territories 481-814
Click map to enlarge


And after Charlemagne had died the map looked like this:

Europe at the time of Charlemagne's death
Click map to enlarge

814 Carolingian, Byzantine Empires and Califate

Map of the Treaty of Verdun 843
And here is a

Plan of a Mediaeval Manor
More History