Boudica ... - AD 60
Image Above

Boudica's Statue in London

Diane Earl


Boudica was a British queen, and she can also be spelled Boadicea or Boudicca.

From the Roman historian Cassius Dio we learn that,
[...] Buduica, a Briton woman of the royal family [...] possessed of greater intelligence than often belongs to women.

This woman assembled her army, to the number of some 120,000, and then ascended a tribunal which had been constructed of earth in the Roman fashion.

In stature she was very tall, in appearance most terrifying, in the glance of her eye most fierce, and her voice was harsh.

A great mass of the tawniest hair fell to her hips; around her neck was a large golden necklace; and she wore a tunic of divers colours over which a thick mantle was fastened with a brooch.

This was her invariable attire.

Cassius Dio, Roman History, Book LXII, 2
Boudica's husband was Prasutagus, ruler of the ancient Iceni tribe. The Iceni populated what is today's Norfolk, eastern Cambridgeshire, and northern Suffolk.
Prasutagus was a knower of his place under the collective Roman thumb. His was a policy of obedient submission, which backfired for his people the second he died.
The Romans thought his passing to be an opportune time to simply annex Prasutagus' realm, completely overlooking the spunk value Queen Boudica brought to the political table.
Even though Prasutagus had willed his kingdom to the Emperor Nero and his two daughters as co-heirs, Boudica was flogged, her daughters raped, and the family's estates plundered.
Led by Boudica, the Iceni revolted in AD 60. Although costly for the Romans, they eventually managed to put down the revolt. Boudica took poison and that was that.


And speaking of zesty British queens of ancient times. There also was
Cartimandua, the queen of the Brigantes tribe in Northern Britain. She ruled around AD 47 to 69.
But unlike Boudica, Cartimandua was very much pro-Roman. She even captured a fellow British ruler and delivered him on a plate to the Romans. This was the British king Caratacus, the leader of the Catuvellauni tribe.

See also

Roman Britain

Here are the maps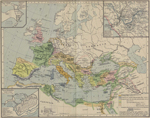 264 BC - 180 AD Rome's Expansion
More History