Originally, the Saxons called home the area that is today's Schleswig (Southern Denmark / Northern Germany.)
The Saxons were busy pirating in the North Sea before they decided to invade Britain in the 5th century AD. And they were not the only ones. Joining the adventure were the

Jutes, the

Angles, and then some.
Hence, the ones who settled on the island became known as the Anglo-Saxons.
In AD 441, the Saxons had their First Saxon Revolt against the native Britons.
Probably Jutes themselves, Hengist, or Hengest, and his brother Horsa were leaders of the early Anglo-Saxon settlers.
AD 455 saw the Battle of Aylesford, located in Kent. Hengist and Horsa were fighting as well and the latter was killed in this battle. The Britons were defeated, however.
See the map

MIGRATION OF THE SAXONS
Click map to enlarge

Once in Britain, the map looked like this: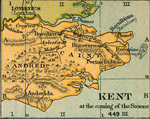 449 Kent at the coming of the Saxons