Explorers, Scientists & Inventors

Musicians, Painters & Artists

Poets, Writers & Philosophers

Native Americans & The Wild West

First Ladies

Popes

Troublemakers

Historians

Archaeologists

Royal Families
Assassinations in History
Who got slain, almost slain, when, how, why, and by whom?

Go to the Assassination Archive

Online History Dictionary A - Z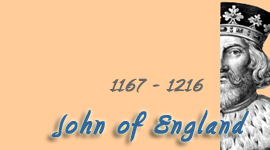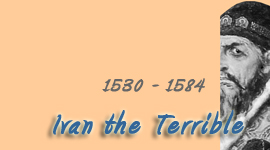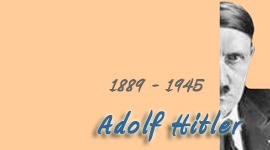 Voyages in History
When did what vessel arrive with whom onboard and where did it sink if it didn't?

Go to the Passage-Chart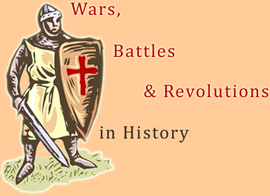 The Goths
The Goths came down from Scandinavia and gained momentum as they went.
In the 3rd century AD, the Goths split into East Goths and West Goths, or Visigoths and Ostrogoths.

This map illustrates their path and where the Goths parted ways.


MIGRATION OF THE GOTHS
Click map to enlarge


Alaric I was king of the Visigoths and so was Theodoric I, who was the only one who managed to defeat Attila in battle.

AD 253-260

The Franks and Alemanni invaded Gaul, Spain, and Africa.

The Goths attacked Asia Minor and Greece. The Persians conquered Armenia. Their king, Sapor, defeated the Roman emperor Valerian, and takes him prisoner.

General distress of the Roman empire.

In AD 260, the Goths invaded the Roman provinces. Emperor Decius was defeated and slain by them.
Fritigern was a commander of the Visigoths who led his troops to victory at the

Battle of Adrianople in 378, in which Roman Emperor

Valens got killed.

Map of the Battle of Adrianople AD 378

And then there was Alaric, chief of the Visigoths from 395, and leader of the army that sacked Rome in August 410, an event that symbolized the fall of the Western Roman Empire.
In 412, the Goths marched into Gaul, and in 414 into Spain, which had been already invaded by hosts of

Vandals,

Suevi,

Alani, and other Germanic nations.
See also

Aquitaine.
Britain is formally abandoned by the Roman emperor of the West,

Honorius.
Major leader of the Ostrogoths was Theodoric, also called Theodoric the Great. He was king of his people from 471 to 526. In 493, he declared himself king of Italy, with headquarters at Ravenna.
Meanwhile in the camp of the Visigoths in 484, Alaric II became king upon his father's death.
Alaric was a man of family tradition, hence he married Theodegotha, the daughter of Theodoric the Ostrogoth. Alaric fell in 507 while looking

Clovis I deep in the eyes at the Battle of Vouille (Vouillé).
In 568, Leovigild became king of the Visigoths. He fought all his life until his death in 586, but successfully so. Thanks to Leo, his people became the dominant factor on the Iberian Peninsula.



And here are more maps: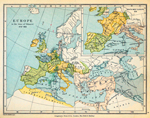 476 - 493 Europe in the time of Odoacer

Roman Empire 5th Century: Routes of the Barbarian Invaders
More History