Reference Maps on the
French Revolution 1789-1799

Reference Maps on the
French Revolutionary Wars 1792-1802
Map Description
Historical Map of Paris during the Revolution 1789 - 1799
Illustrating
Names of the Sections

1 des Tuileries
2 des Champs-Elysées
3 de la République (formerly du Roule)
4 de la Montagne (formerly du Palais Royal, du Palais Egalité, de la Butte des Moulins or de la Butte St. Roch)
5 des Piques (formerly de la Place Vendôme)
6 Le Pelletier (formerly de la Bibliothèque, des Filles St. Thomas, de 1792)
7 du Mont Blanc (formerly de la Grange-Batelière, de Mirabeau)
8 du Muséum (formerly du Louvre)
9 des Gardes Françaises (formerly de l'Oratoire)
10 de la Halle au Blé
11 du Contrat Social (formerly des Postes)
12 de Guillaume-Tell (formerly de la Place de Louis XIV or des Petits Pères du Mail)
13 de Brutus (formerly de la Fontaine de Montmorency, la Fontaine Montmartre, Molière et La Fontaine)
14 de Bonne Nouvelle
15 des Amis de la Patrie (formerly du Ponceau)
16 de Bon Conseil (formerly de Mauconseil)
17 des Marchés (formerly du Marché des Innocents, des Halles)
18 des Lombards
19 des Arcis
20 du Faubourg Mont-Marat (formerly du Faubourg Montmartre)
21 Poissonière or de la Rue Poissonière
22 de Bondy
23 du Temple
24 de Popincourt or des Citoyens armés de Popincourt
25 de Montreuil or de la Rue de Montreuil
26 des Quinze-Vingts
27 des Gravilliers
28 du Nord or du Faub du Nord (formerly du Faub St. Denis)
29 de la Réunion (formerly de la Rue Beaubourg)
30 de l'Homme Armé (formerly des Enfants Rouges, du Marais)
31 des Droits de l'Homme (formerly du Roi de Sicile)
32 de la Fidélité (formerly de l'Hôtel de Ville, de la Maison Commune)
33 de l'Indivisibilité (formerly de la Place Royale, de la Place des Fédérés)
34 de l'Arsenal
35 de la Fraternité (formerly de l'Ile St. Louis)
36 de la Cité (formerly de Notre-Dame, de la Raison)
37 Révolutionnaire (formerly de Henri IV, du Pont Neuf)
38 des Invalides
39 de la Fontaine de Grenelle
40 de l'Unité (formerly des Quatre Nations)
41 Marat (formerly du Théâtre Français, de Marseille)
42 du Bonnet-Rouge or du Bonnet de la Liberté (formerly de la Croix-Rouge, later Section de l'Ouest)
43 de Mutius Scevola (formerly du Luxembourg)
44 de Chalier (formerly des Thermes de Julien, de Beaurepaire, Régénérée)
45 du Panthéon Français (formerly Ste. Geneviève)
46 de l'Observatoire
47 des Sansculottes (formerly du Jardin des Plantes)
48 du Finistère or Lazowski (formerly des Gobelins)


Faubourg = In history, part of a town outside its walls or former walls.


Credits
University of Texas at Austin. From the Cambridge Modern History Atlas, 1912.

Related Links


About the French Revolution

About the French Revolutionary Wars

About the Bastille

Taxation in Pre-Revolutionary France

List of French comptrollers-general

Related Maps


Map of the Vicinity of Paris 1562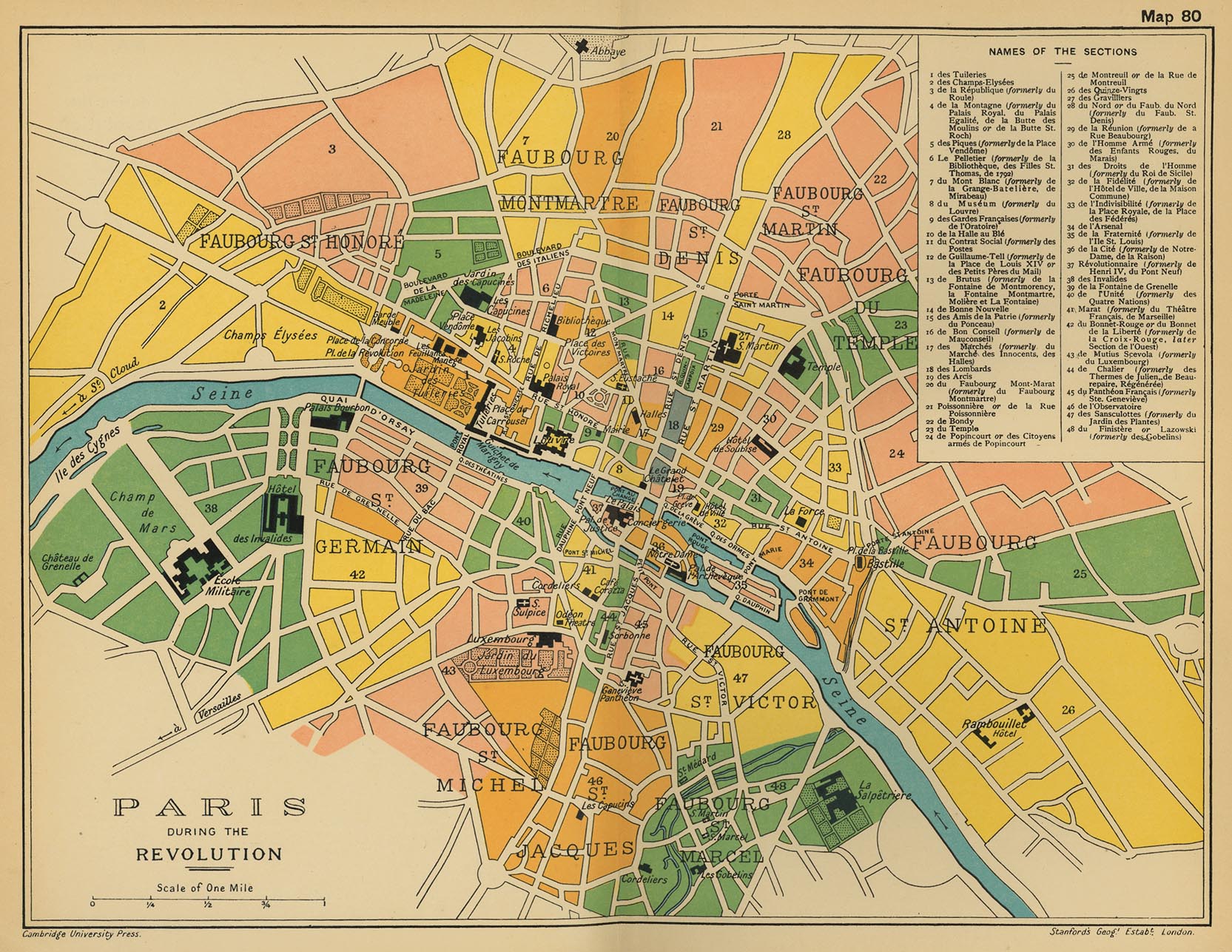 More History