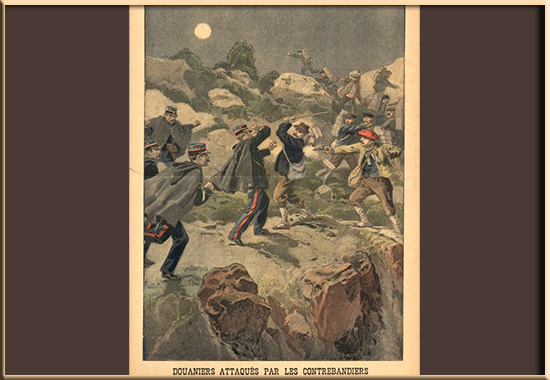 Customs Officials Attacked by Smugglers

Taxation in Pre-Revolutionary France
Between 1500 and 1789, France was the leading power in Europe, dethroning Spain, making Austria the runner-up, and preceding Britain.
However . . .


Image Above
Douaniers attaqués par les contrebandiers

Customs officials attacked by smugglers.


Le Petit Journal, end of 19th century, which makes it post-revolutionary, of course.

Musée National des Douanes

. . . the country's revenues were based on a very complex system of taxation.
Carried over from olden times, each province had different tax agreements with the Crown. The resulting difference in tax rates from province to province made it necessary to set up internal customs barriers and was of course both, a challenge and a delight for smugglers.
As it turned out, this unequal system of taxation became major fuel to the 1789 bonfire of the

French Revolution.
How so?
What Is the Direct Connection Between Taxation in Pre-Revolutionary France and the French Revolution of 1789?
It was the King's deficit that caused him to desperately call for the

Estates General on August 8, 1788 — a deficit that could have been taken care of and balanced out by tax revenue.
But there is more.
Taxes under the ancient regime were based on privileges. Toward the end of the ancient regime, two things became apparent:
1 A system based on privileges was felt to be unjust.

2 A system based on privileges was almost impossible to reform effectively because it meant to cut the wings of the privileged, whose power was given to them by this very system.

Thus, in a nutshell, taxation in pre-revolutionary France illustrated the injustice and the impracticality of the actual cornerstone of French society at the time — privileges.
And by illustrating its inability to change, it demonstrated the need for a major overhaul of the social order in France.