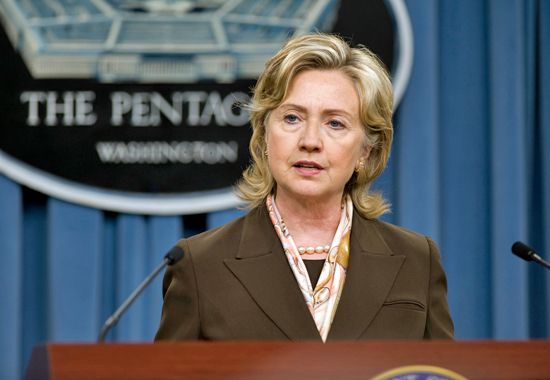 Hillary Rodham Clinton 1947 -
Image above:

Secretary of State Hillary Clinton conducts a briefing on the Nuclear Posture Review with Secretary of Defense Robert M. Gates, Chairman of the Joint Chiefs of Staff Adm. Mike Mullen and Secretary of Energy Steven Chu in the Pentagon on April 6, 2010. DoD photo by Cherie Cullen. (Released)

U.S. Department of Defense


Hillary — The Early Years
Hillary Diane Rodham was born in Chicago, Illinois.
Her parents were Hugh and Dorothy Rodham.

In 1969, Hillary Rodham graduated from Wellesley. On May 31, 1969, she gave her student commencement speech. It was Wellesley's 91st commencement. And here you can read Hillary's

Wellesley Commencement Speech.
And here is the

Wellesley College web site.
Hillary — The Clinton Years
On October 11, 1975, Hillary married

Bill Clinton.
Bill Clinton's presidency made Hillary America's First Lady from 1993 to 2001.

On September 5, 1995, Clinton delivered her

Women's Rights Are Human Rights speech at the Fourth UN World Conference on Women in Beijing, China.

Benazir Bhutto had delivered her

Equality and Partnership speech here on the opening day.
And a few days later,

Bella Abzug followed up at the same event with her speech

Women Will Not Stop.

Go here for more about

Human Rights in History.
From 2001 to 2009, Hillary Clinton was U.S. Senator representing New York.
On January 21, 2009, Hillary Rodham Clinton was sworn in as the 67th Secretary of State of the United States.

Hillary Clinton
More History