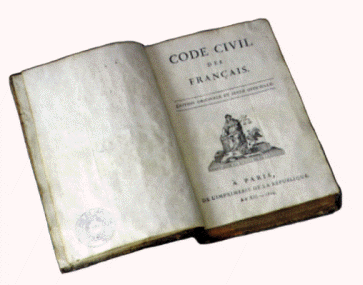 Napoleonic Code 1804
Also called Code Napoleon or Civil Code, the Napoleonic Code is a private law that was composed under

Napoleon I Bonaparte.
Almost everyone applauded, except all women folk, who still didn't get the right to vote and remained dependent in the eye of the law.
With modifications, the code is still in effect in France and regulates the private lives of French citizens.
The Napoleonic Code had a big influence on the law making of many other countries.

NAPOLEON THE LAWMAKER
Painting by Jean-Baptiste Mauzaisse
More History