Reference Maps on the Slave Trade


Related

Chart: Slavery and Agricultural Products
1790-1860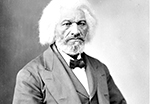 Speech: The Hypocrisy of American Slavery
Frederick Douglass on July 5, 1852

Speech: I've Seen the Promised Land
Martin Luther King on April 3, 1968
Map Description
Map showing the distribution of the slave population of the southern states of the United States. Compiled from the census of 1860.
Illustrating:
Map indicates by gray patterns, the percentage of slaves in each county.

Chart indicates free population and slave population for South Carolina, Mississippi, Louisiana, Alabama, Florida, Georgia, North Carolina,
Virginia, Texas, Arkansas, Tennessee, Kentucky, Maryland, Missouri, Delaware, by number and by percentage.

Credits
Drawn by E. Hergesheimer. Engr. by Th. Leonhardt. Published: Washington Henry S. Graham 1861.
Library of Congress Geography and Map Division Washington, D.C. 20540-4650

Related Links


Slavery and Abolition

Slave Ship Brookes




More History