Map Description
Historical Map of the Westward Development of the United States, 1790-1900.
The map is intended to illustrate the westward development of the United States, mainly
from an economic and social standpoint. Lack of space prevents the insertion of the principal
railway lines constructed since 1850. For the territorial and political growth of the United States,
see pages

198-199 and

202-203.
Illustrating
The frontier line 1790
The frontier line 1800
The frontier line 1830

Centres of population 1790-1900
Centres of agriculture 1830-1900
Centres of manufacturing 1850-1900

The Cumberland Road
The accompanying dates are those of the practical completion of the sections, 1812-1840

Stage lines in 1850
Railways in 1850
Canals in 1850

Route of Lewis and Clark, 1804-1806
Route of Pike, 1805-1806
Route of Pike, 1806-1808
Routes of Long and Bell, 1820
Route of Smith, 1826-1829
Route of Fremont west of the Rocky Mountains, 1843-1845

The Oregon Trail
Sublette's Cut-off
The Santa Fe Trail
The Spanish Trail and the California Cut-off
The California Trail
Routes of the "Forty-Niners"
Route of the "Pony Express" 1860-1862

Principal land grants made by the Federal Government in aid of railway lines west of the Mississippi River, 1864-1866.
The word "40 mile limits" etc. refer to the width of the grant.

Forts and trading posts
British posts ( Hudson's Bay Company) in the Oregon Country held until the treaty of 1846 are underlined
Battle
Capital of a State or Territory
Mountain pass

For the approximate location of Indian tribes see p. 188

Credits
University of Texas at Austin. Historical Atlas by William Shepherd (1911).

Related Links


About Lewis

About Clark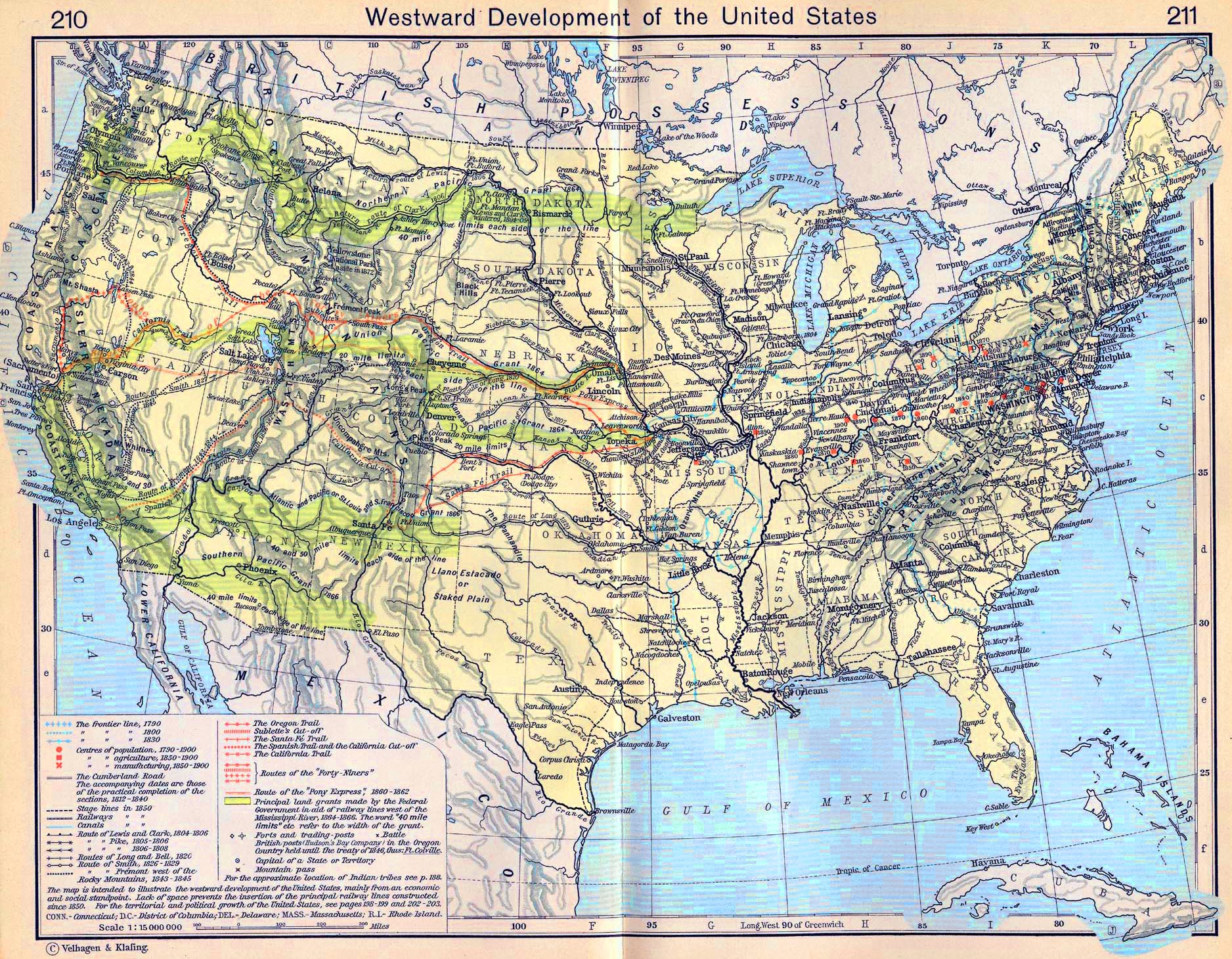 More History