Hudson's Bay Company

Some spell it Hudson Bay Company.
The Hudson's Bay Company, or if you are French, the Compagnie de la Baie d'Hudson, in short HBC, was incorporated by royal charter in England on May 2, 1670.

King Charles II was ruling at the time.
The company's task was to find a northwest passage to the Pacific and to make a healthy buck off of the land flanking the Hudson Bay.
The company's original name was The Governor and Company of Adventurers of England Trading into Hudson's Bay.
The Hudson's Bay Company owned all the land in the Hudson's Bay watershed, an area more than one-third the size of Canada today. It had a monopoly on all trade there and concentrated on the fur trade.

It merged with rival North West Company in 1821, further expanding its territory to include northern Alberta and B.C., the Northwest Territories and the Yukon.
Its trade monopoly was abolished in 1870 and its land sold to the government of Canada.
The Hudson's Bay Company withdrew from the fur trade in 1991.

With headquarters in Toronto, the Hudson's Bay Company still exists today and you can buy its shares at the stock market. The modern company runs three main retail divisions: the Bay, Zellers, and Home Outfitters. It has 70,000 employees and is Canada's oldest company.
And here are the maps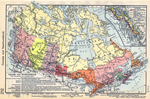 1623-1905 Canada and Newfoundland

1763-1775 British Colonies in North America

1840-1867 British North America
More History