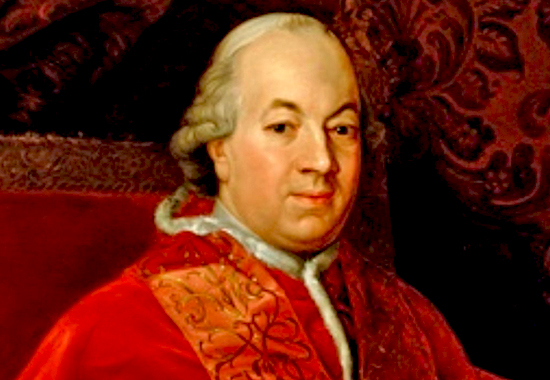 Pope Pius VI 1717-1799
Image Above

Pius VI

Detail from the painting by Pompeo Girolamo Batoni, around 1775
Pius VI was originally Giannangelo Braschi, or Giovanni Angelico Braschi, and Italian, born at Cesena.
He was pope from 1775 to 1799, which made the

French Revolution and the subsequent loss of Church riches one of his problems.
Things went really downhill when the French declared the

Roman Republic on February 15, 1798.
Check this event in the

Timeline of the French Revolutionary Wars.
Pius' knapsack was packed for him on the occasion of his arrest by the French on March 27, 1799. He was taken to France.
Pope Pius VI died on August 29, 1799, at Valence, France.
Check also

index of all popes.
More History