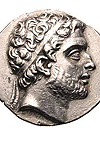 Philip V of Macedon 238-179 BC
Philip was the king of Macedonia (or Macedon) from 221-179 BC.
He fought in the

Macedonian Wars against Rome.
Philip's father was Demetrius II.
Philip's mother was Phthia, or Chryseis.
Before Philip, Antigonus III was king of Macedonia. Philip was succeeded by his son Perseus.
In 200 BC Rome made war upon Philip, king of Macedonia.
Rome pretended to take the Greek cities of the Achaean league and the AEtolians under her protection as allies.
Philip was defeated by the proconsul Flaminius at the Battle of Cynocephalae, 197 BC, and had to beg for peace.
The Macedonian influence was now completely destroyed in Greece, and the Roman influence was established in its stead, though Rome nominally acknowledged the independence of the Greek cities.

200 BC Macedonian Empire
Click map to enlarge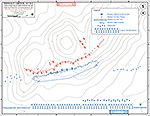 197 BC Battle of Cynoscephalae - Phase I

197 BC Battle of Cynoscephalae - Phase II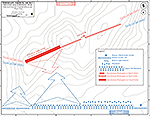 197 BC Battle of Cynoscephalae - Phase III

197 BC Battle of Cynoscephalae - Phase IV
More History