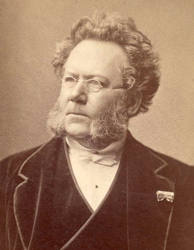 Henrik Ibsen 1828-1906
Image above:

Henrik Ibsen

Click photo to enlarge


Henrik Johan Ibsen was a playwright from Norway.
At age 23, Henrik Ibsen became director of a theater that eventually went bankrupt. Ibsen took the opportunity to move to Italy where he wrote excellent plays.
In 1858, Henrik Ibsen married Suzannah Thoresen.
Henrik Ibsen's Plays
What was different about Ibsen's plays?
He was a shocker.
For instance, while people at the time felt like a happy ending was a must-have, Henrik Ibsen ended his plays with women leaving their family, double suicide, or people dying from syphilis.
The Plays by Henrik Ibsen
1850 Catiline

1862 Love's Comedy

1863 The Pretenders

1866 Brand

1867 Peer Gynt

1873 Emperor and Galilean

1869 The League of Youth

1877 Pillars of Society

1879 A Doll's House

1881 Ghosts

1882 An Enemy of the People

1884 The Wild Duck

1886 Rosmersholm

1888 The Lady from the Sea

1890 Hedda Gabler

1892 The Master Builder

1894 Little Eyolf

1896 John Gabriel Borkman

1899 When We Dead Awaken
What else?
While in Rome, Henrik Ibsen met another artist from Norway, Edvard Grieg, who put some incredible music to Peer Gynt. Check it out:
More History