Emmanuel-Joseph Sieyès 1748-1836
Image Above

Emmanuel-Joseph Sieyès

Detail from the portrait by Jacques-Louis David, 1817.
Emmanuel-Joseph Sieyès was born in beautiful Fréjus, France.
After having published two political pamphlets before 1789, he then wrote the one that put all others on the bottom shelves:

What Is the Third Estate?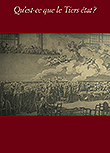 And here it is in French:

Qu'est-ce que le tiers état?

Check this event in the Timeline of the French Revolution
Hence, Sieyes played a major role in the

French Revolution.
Sieyes became one of the consuls in Napoleon's

Consulate which terminated the

Directory and became the government of France from 1799 to 1804.
Here is more on

Napoleon I Bonaparte.
See also

Governments of France.
And maybe

Timeline of the French Revolutionary Wars.
More History