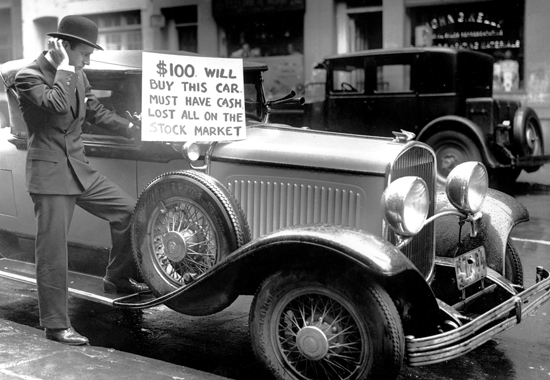 A Car Goes on Sale for $100 After the Wall Street Crash
Photograph: PPP

The Great Depression 1929-1939
The Great Depression was a severe recession that started in the United States and spread throughout the world.


Unemployment was the word of the day.
In the U.S., presidents Herbert Hoover, president from 1929-1933, and

Franklin Delano Roosevelt, president from 1933-1945, had to deal with the Great Depression.
Recovery began in the U.S. in early 1933.
Black Days
The opening chapter of the Great Depression is generally referred to as the Stock Market Crash of 1929, or the Great Crash.
Especially bad was October 24, 1929, also called Black Thursday.
And October 28, 1929, also called Black Monday.
And October 29, 1929, also called Black Tuesday.


Black Friday, however, usually refers to September 24, 1869, the day when Jay Gould and James Fisk tried to monkey with the gold market, which severely backfired.
Go here for more about

Franklin D. Roosevelt and the Great Depression.
See also

American Timeline
More History