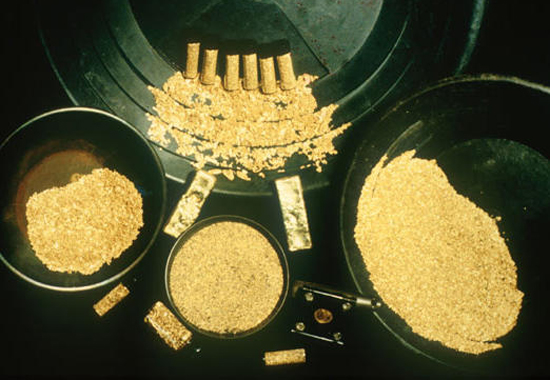 Gold Pans and Placer Gold*
Max Fianery / California Geological Survey / USGS

The Gold Rush in North America
The NPS tells us:

"Unlike hard rock mining, which extracts veins of precious minerals from solid rock, placer mining is the practice of separating heavily eroded minerals like gold from sand or gravel."

For more go here.

1828
In 1828, gold was discovered in northern Georgia. This developed into the first gold rush in the U.S.
In 1833, the site became the city of Dahlonega.
See also

Indian Removal Act of 1830.
Today, you can visit the

Dahlonega Gold Museum.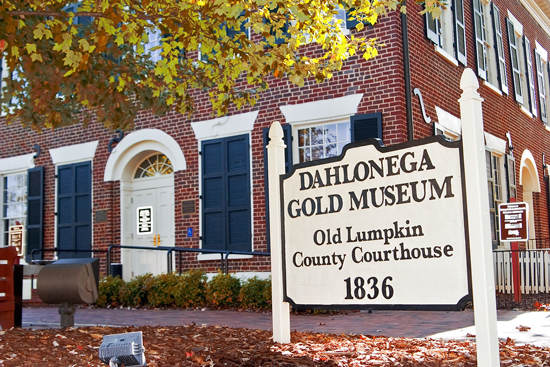 1848
The next major gold rush begun when in 1848 John Sutter's carpenter James W. Marshall discovered gold on the South Fork of the American River, which was located on Sutter's land in California, approx. one hour northeast by car from what would become Sacramento in 1850.
Here is James Marshall standing in front of Sutter's sawmill at Coloma, California, the site of his gold discovery.

James Marshall in Front of Sutter's Sawmill
Photomechanical reproduction of the 1850(?) daguerreotype by R. H. Vance
Library of Congress
According to California State Parks,
This event led to the greatest mass movement of people in the Western Hemisphere and was the spark that ignited the spectacular growth of the West during the ensuing decades.

More

here.
1850
Gold was discovered in Colorado. Today, you can tour the Mollie Kathleen Gold Mine at Cripple Creek.
1858
Gold was found along the Fraser River, and in 1860 in the Cariboo Mountains in British Columbia.
1859
The Silver Rush for the Comstock Lode begun near Virginia City in Nevada.
1874
The Black Hills gold rush of South Dakota begun.
1896

The Klondike gold rush along the Klondike and the Yukon River begun.
Go here for a

map of the Klondike Gold Rush on the Alaska Purchase page.

Map of the Trails to the Klondike Gold Fields 1897-98


So far the major gold rushes of North America.
See also

American Timeline

Gold Nugget
NPS

More History