Spanish-American War April 21-Dec 10, 1898


Who fought, WHO WON, WHO LOST?

The United States vs. Spain.

The U.S. won, Spain lost big.

John J. Pershing fought in this war.

And so did Theodore Roosevelt, leading his Rough Riders.

WHO RULED at the time?

In Spain, Queen Marķa Cristina ruled for her son Alfonso XIII.

In the United States, President William McKinley was in office.

WHY DID THEY FIGHT?

Cuba wanted independence from Spain. Spain wanted to hang on to Cuba. The U.S. wanted Spanish power out of their neighborhood.

The U.S. demanded Spanish withdrawal from Cuba. Spain didn't hear well on that ear and stayed put.

In January 1898, the U.S. sent the battleship Maine direction Havana. There, in Havana harbor on February 15, 1898, an explosion caused by a mine sank the U.S.S. Maine and 266 of the 354 crew members were killed. Until today, it is disputed who was responsible for the explosion.

See Voyages in History for casualties and survivors.


On April 22, 1898, the U.S. started blockading Spanish ports. On April 24, 1898, Spain declared war on the U.S. On April 25, the U.S. declared war on Spain and back-dated it to April 21.
WHERE DID THEY FIGHT?
On May 1, 1898, the opponent's naval forces clashed in the harbor of Manila, Philippines. This was the Battle of Manila Bay.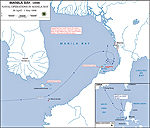 Manila Bay - April 30-May 1 1898
Spain was finished off in the harbor of Santiago de Cuba on July 3, 1898.
And here are the maps:

MAP OF THE SPANISH AMERICAN WAR
Click to enlarge

Spanish-American War 1898: Santiago de Cuba

Spanish-American War 1898: Cuba

Spanish-American War 1898: Santiago Harbor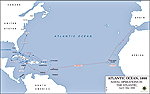 Spanish-American War: April-May 1898

Map of the Santiago Campaign: June 22-24, 1898

Map of the Santiago Campaign: July 1, 1898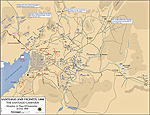 Map of the Santiago Campaign: July 14, 1898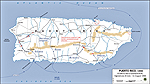 Map of Puerto Rico: Operations July 25-August 12, 1898

Map of the Capture of Manila - August 13, 1898

1898-1902 Spanish-American War: Aftermath
WHAT ENDED THE WAR?
The

Treaty of Paris, signed December 10, 1898, ended this war.
Spain lost Guam and Puerto Rico to the U.S. and had to let go of Cuba as well.
And for a measly $20,000,000, the U.S. bought control over the Philippines from the Spanish.
Here is the

Timeline of the Spanish-American War.

Check the costs of major US wars in comparison.

Check the American war casualties report
See also

American Timeline.
More History