Reference Maps on the Beginning of the Thirty Years' War
Map of the Religious Situation in Central Europe 1618

Map of Germany at the Commencement of the Thirty Years' War

Reference Maps on the Thirty Years' War 1618-1648

Reference Maps on the Treaty of Westphalia
Map of Europe in 1648

Map of Central Europe about 1648

Map of Germany: The Peace of Westphalia

Map of Germany: Territorial Provisions of the Peace of Westphalia

The Treaty of Westphalia - Map

Reference Maps on the Aftermath of the Thirty Years' War
Map of the Austrian Empire 1648-1795

Map of the Netherlands and Western Germany 1648-1715

Map of Prussia: Territorial Expansion 1648-1795

Map of South Eastern Europe 1648-1739
Map Description
Historical Map of Germany Showing the Territorial Provisions of the Peace of Westphalia 1648.
Explanation
- Ceded to Brandenburg
Eastern Pomerania, Magdeburg, Halberstadt, Minden.
- Ceded to Elector of Saxony
Lusatia.
- Ceded to France
Metz, Toul, Verdun (already French, now formally ceded), Alsace, so far as belonging to Austria, Breisach, Philipsburg.
- Ceded to Sweden
Western Pomerania, I. of Rügen, Bishoprics of Bremen and Verden, town of Wismar.
- Ceded to Brunswick
Bishopric of Osnabrück.
- Ceded to Bavaria
Upper Palatinate.
- Ceded to Mecklenburg
Schwerin, Ratzeburg.
- Acknowledged as independent
United Netherlands, Switzerland.
Credits
University of Texas at Austin. From The Public Schools Historical Atlas edited by C. Colbeck, 1905.
Related Links


About the Thirty Years' War

About the Peace of Westphalia

The Battles of the Thirty Years' War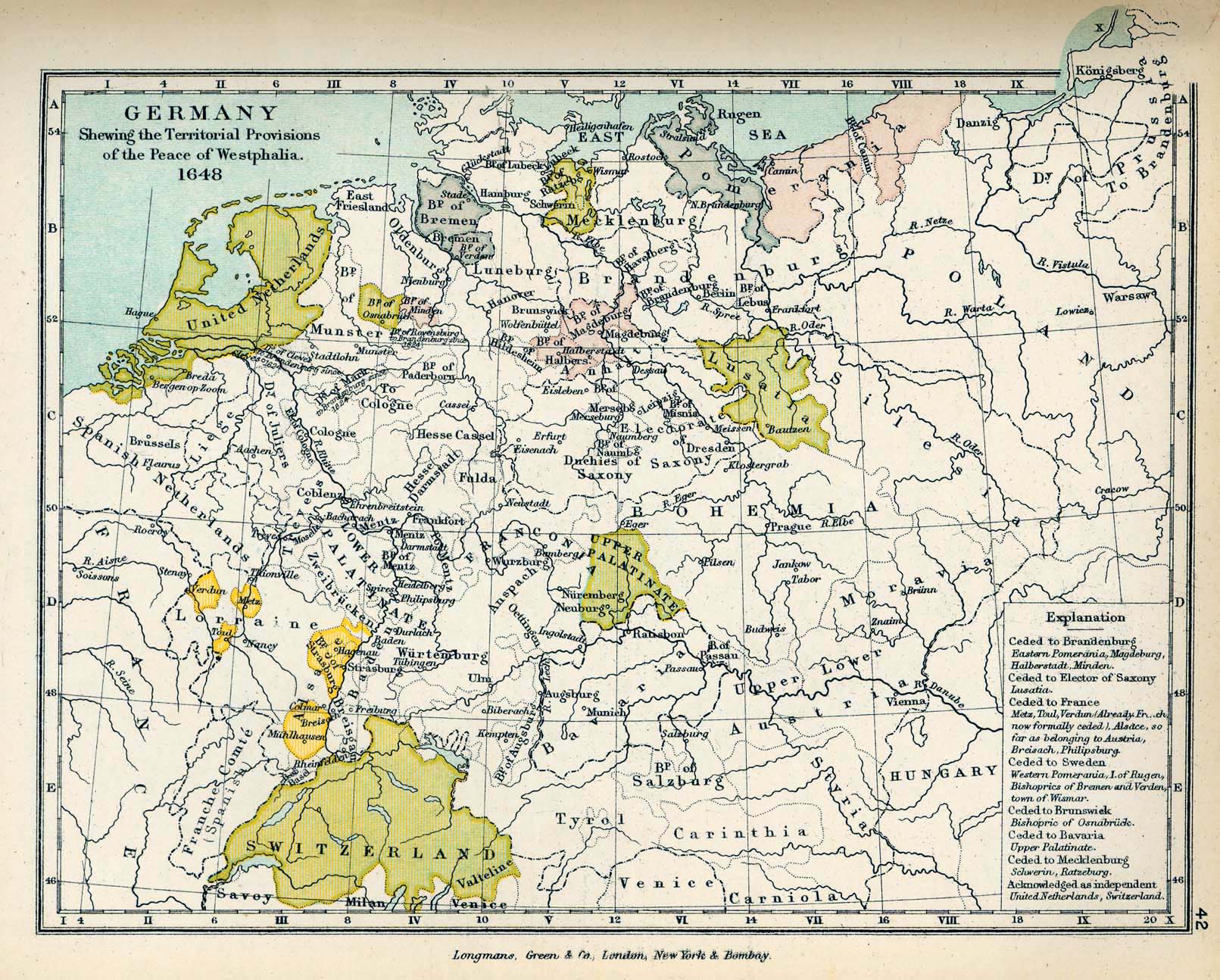 More History