Map Description
History Map of the Sinai Peninsula
Third Arab-Israeli War 1967, also called the Six-Day War or the June War

Illustrating:
Conquest of Sinai

June 7-8, 1967

Egyptian units, paralyzed by the breakthrough 5-6 June, managed only minor resistance
except in the 5 positions indicated.

Unites were too mingled to make any accurate differentiation.

Naval elements landed unopposed 7 June

Southern Command

Avraham Yoffe

Ariel Sharon

Israel Tal

Ind. = Independent Brigade


Credits
Courtesy of the United States Military Academy Department of History.
Related Maps: The Six-Day War

Sinai: Israeli Advance, June 5-6, 1967

Conquest of Sinai, June 7-8, 1967

Israel: The Jordan Salient, June 5-7, 1967

Israel: Battle of Golan Heights, June 9-10, 1967

Related Links


About the Arab-Israeli Wars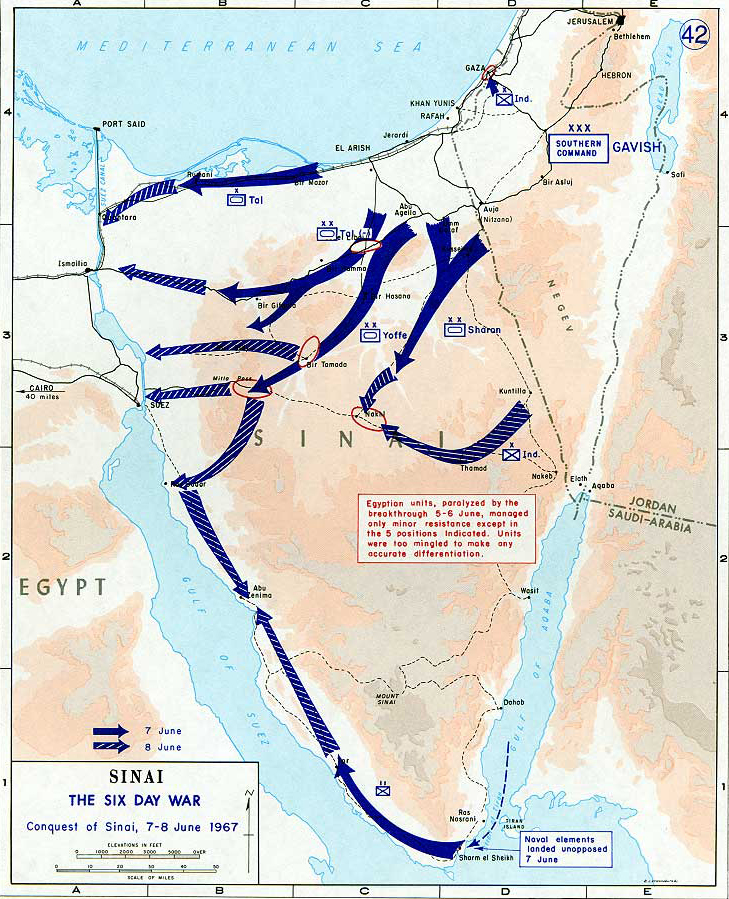 More History