Map Description
Historical Map of Central Europe about 1547.
Illustrating
Hapsburg Lands About the Habsburg Dynasty
- Spanish line
- Austrian line

Wettin Lands About the Wettin Dynasty
- Albertine line
- Ernestine line

Hohenzollern Lands About the Hohenzollern Dynasty
- Brandenburg line
- Franconian line

Wittelsbach Lands About the House of Wittelsbach
- Bavarian line
- Palatinate line

Oldenburg Lands
- Denmark-Schleswig-Holstein line
- Oldenburg

Ecclesiastical States
Imperial Cities
Boundary of the Empire

The states and cities of the Empire which signed the protestation at Spires in 1529 are
underlined. Places where the most important events of the Protestant Revolution occurred
are indicated by a dot. The areas in the Empire left uncolored were divided into petty
states.

A - Archbishopric
Al. Dist. - Allied District
B - Bishopric
C - County
D - Duchy
L - Lordship
Lg. - Landgraviate
M - Margravate
P - Principality
S.C. - Swiss Confederation

- Castle
- Monastery

Inset: Wettin Lands 1485-1554
Illustrating
Border coloring of the bishoprics (B) indicates the protectorate under which they stood.

- Castle

- Lands ruled by the (Ernestine) Elector of Saxony in 1521 according to Leipsic Treaty of 1489

- Albertine Lands (1521)

- Transferred from Ernestine to Albertine by Wittenberg Capitulation (1547)

- Ernestine after Wittenberg Capitulation

- To Bohemia after Wittenberg Capitulation

- Transferred from Albertine to Ernestine by Naumburg Treaty (1554)

Inset: Principality of Orange
Illustrating
- Rhone River
- County of Venaissin
- To Nassau, 1530
- Avignon, to the Papacy
- Durance River

Credits
University of Texas at Austin. Historical Atlas by William Shepherd (1911).

Related Maps


Map of Central Europe in 1378

Map of Central Europe in 1477

Map of the Wettin Lands 1485

Map of the Swiss Confederation 1291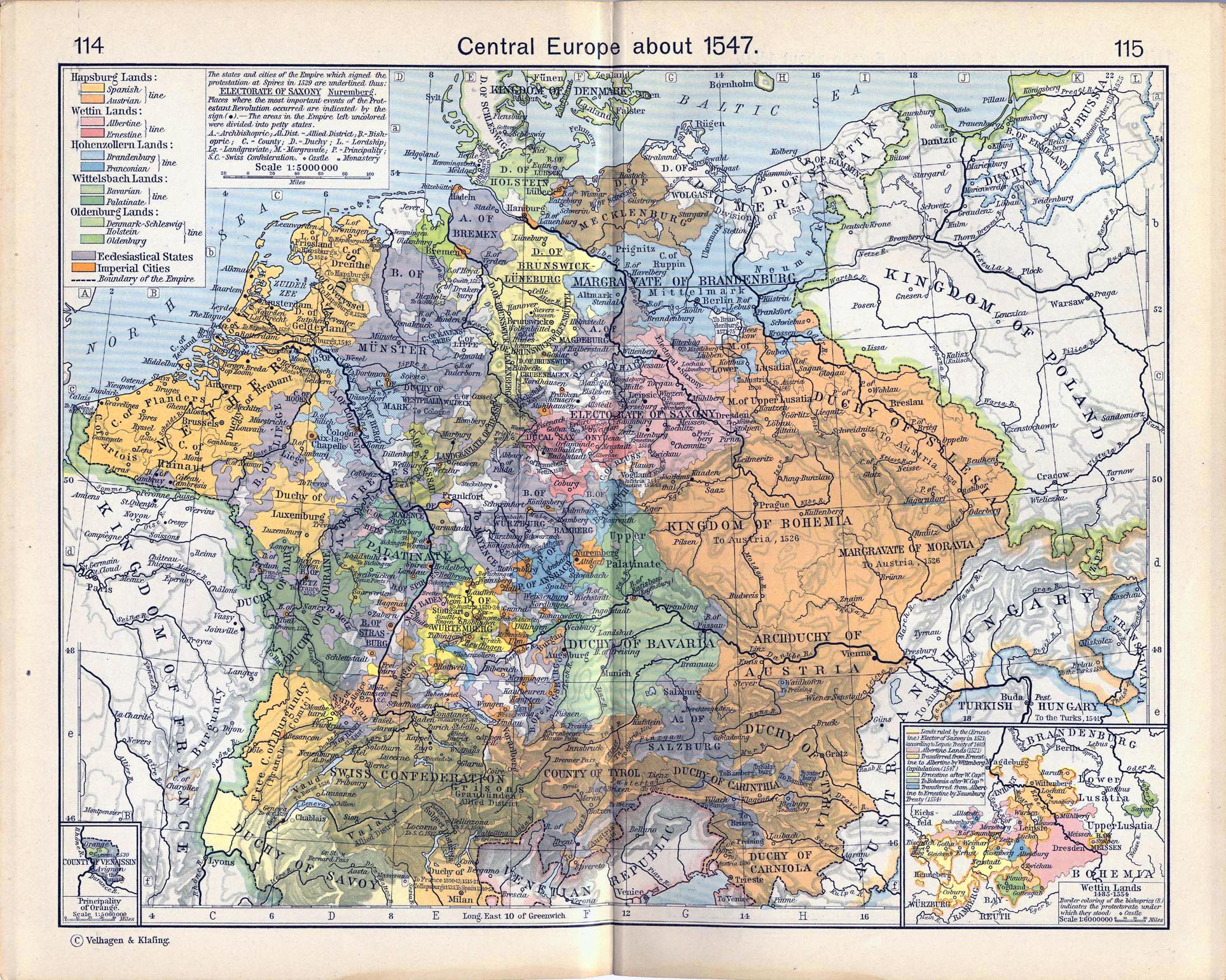 More History