Map Description
Historical map of the Ottoman Empire, 1451-1481. Constantinople.
Illustrating
Constantinople:
Wall of old (Greek/Byzantium (?)
Wall of Constantine (330) - See also About Constantine I
Double Wall of Theodosius II (408-450) - See also About Theodosius II
Wall of Heraclius (626-641) - See also About Heraclius
Wall of mediaeval Galata
Wall of the New Seraglio

Byzantine names in thin type

1 St. Sophia
2 Statue of Justinian
3 Serpent Column
4 Burnt Column (of Constantine)
5 Mosque of Bajazet
6 Mosque of Sultan Valideh
7 Grave of the last Byzantine emperor
8 Greek Patriarchate
9 Prison of Anemas
10 Old (Mahmoud) Bridge
11 New (Valideh) Bridge
12 Tomb of Khair-ed-Din Barbarossa
13 Column of Arcadius

Route over which the ships of Mohammed II were drawn.

Credits
University of Texas at Austin. Historical Atlas by William Shepherd (1923-26).


Related Links


About the Ottoman Empire

Related Maps


Map of the Ottoman Conquest 1451-1566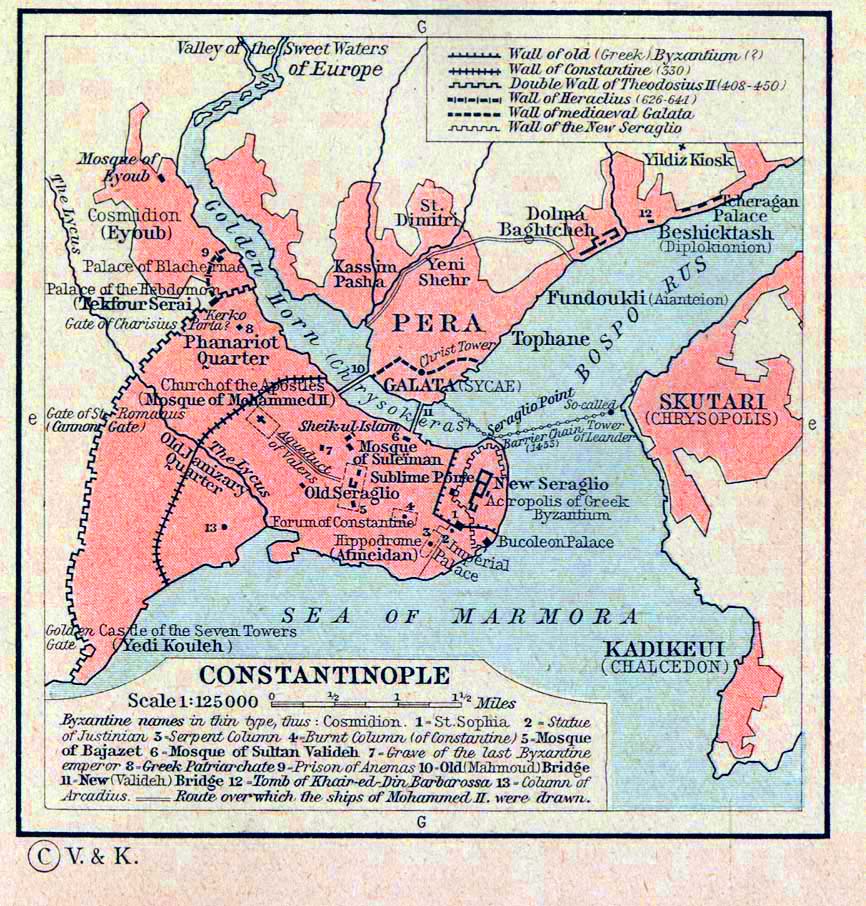 More History