Remembered for His Calendar, Forgotten for His
Dancing on the Graves of Huguenots: Pope Gregory XIII
Pope Gregory XIII 1502-1585
Image Above

Detail from the Portrait of Pope Gregory XIII by Scipione Pulzone, oil on canvas, which made Christie's a decent 32,500 bucks in 2013.
Ugo Boncompagni was Pope Gregory XIII from 1572-1585.
He hailed from Bologna, northern Italy, home of the famous university, which he attended.
In 1561, Pope Pius IV sent him to attend the Council of Trent, which took place from December 13, 1545 - 1563.
Ugo was made cardinal in 1565.
In 1572 he became pope, succeeding Pope "Saint" Pius V (aka Antonio Ghislieri, the one who excommunicated

Elizabeth I.)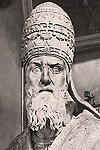 Pope Gregory XIII
Statue by Pier Paolo Olivieri, Church of Santa Maria in Aracoeli, Rome
In 1582, Pope Gregory announced a revision of the calendar. His new version became known as the New Style Calendar, or the Gregorian Calendar, and is the one you and I are using today.
Before the Gregorian Calendar, the Julian Calendar, or Old Style Calendar, was in use.
Why on earth would you want to mess with the calendar?
The Julian Calendar figured a year to be 365.25 days long. It actually is 365.2422 days long. (

Let NASA explain.)
The difference of 0.0078 days per year is not much in a lifetime (0.624 days for an 80-year-old), but from the time the Julian Calendar had been implemented up to Gregory's time it was enough for Gregory to declare that Thursday, October 4, 1582, was to be followed by Friday, October 15, 1582.
Those living in Roman Catholic countries and having their birthday between October 5 and 14 were slightly miffed.
So, Gregory had the calendar back on track by fast forwarding ten days. But how to prevent it from happening again?
The Julian Calendar already had leap years, so did Gregory's calendar, but it was more specific: It had all years divisible by 4 marked as leap years, except for century years, which must be divisible by 400 to be leap years. (Again,

let NASA explain.)
Therefore, the only difference between the Julian and the Gregorian calendar is that century years can't be leap years unless they are divisible by 400.
Implementation
Non-catholic countries hesitated to commit to the Gregorian Calendar, but eventually they saw it practical to do so.
Here follows the years in which the countries adapted the Gregorian Calendar:
1699 - Protestant German states

1752 - England and its colonies

1753 - Sweden

1873 - Japan

1912 - China

1918 - Soviet Union

1923 - Greece
Back to Pope Gregory XIII. When he googled a map, it looked something like this:
Check also

index of all popes.
More History