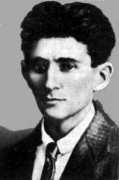 Franz Kafka 1883-1924


A Jew, Franz was a writer born in Prague, which was part of Austria-Hungary at the time. He died from tuberculosis. His three sisters were killed in Nazi concentration camps.

Regarding his writings:
Franz wrote in German and delightfully gloomy. Guilt, rejection by society, and trouble with father figures are recurring issues.
Here are some of his novels: The Trial, The Castle, and Amerika. Franz also wrote many short stories.

At the end of his life, Franz told his friend Max Brod to get rid of all his manuscripts and to discontinue the publishing of the works that were already circulated and not to publish anything of the other works he had written.
Franz died and Max decided Kafka's writings were worth keeping. Thus, we have us today many smart people interpreting Franz Kafka's writings every which way.
Here's a site for

all things Franz Kafka.
More History