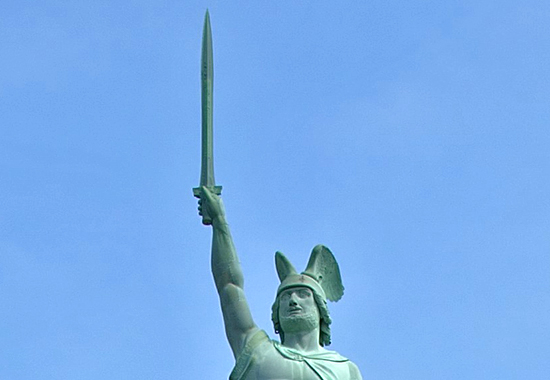 Arminius 18 BC - AD 19
Image above:

Hermannsdenkmal, a 188 foot, or 57 meter monument to Arminius, located just south of today's German city of Detmold at the spot where Arminius told the Romans to pack their knapsacks and turn back home.

Photo: wiki
Arminius' German name was Hermann, chief of the Cherusci tribe.
His wife was Thusnelda.
And the Germans liked him because he led them successfully against the powerful Romans.
Case in point was the

Battle of the Teutoburg Forest, which included the utter annihilation of

Publius Quinctilius Varus and his team.

Arminius Monument Germany
Photo: Wiki